Cellulite Contouring
Cellulite Contouring Non-invasive Treatment
Desperate to get rid of cellulite? Cellulite is often genetic, and is difficult to get rid of once it forms. Thankfully, Body Sensation Medspa's cellulite contouring treatments are a great way to reduce cellulite fat and cellulite "orange peel" texture on your legs, stomach, and bottom. By improving your body's fat cell absorption, we sculpt and shape the surface areas of your body that exhibit the most cellulite.
Vela Slim Cellulite Contouring Treatment Services
​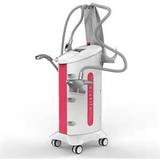 Vela Slim Cellulite Contour Sculpting is our most effective and proven treatment of stubborn cellulite, along with cellulite mesotherapy to smooth, reduce, and in most cases eliminate your cellulite problem areas.
Mesotherapy Cellulite Contouring Treatment Services
Microinjections target the cellulite fatty layer to reduce and smooth out your cellulite problem areas.
---
Cellulite Contouring Benefits
Fat Cell Reduction
Fat Absorbtion
Orange Peel Reduction
Target Area Sculpting
Metabolic Stimulation
Increased Circulation